How to Start a Blog – Free Blogging Guide For Beginner's
Have you ever wondered to start a blog, but found it difficult to get started? If so, then we have brought the most fascinating guide to help you get started with a blog. Blogging is a long journey and you need a lot of patience while going through it. People often start with blogging to earn money, but often fail to enroll the blog users with encouraging posts. Before starting a blog, you should have a strong perspective of starting it. Yes off course, you can generate endless amount of money through your blog, but your blog should be the best a user can get over the internet. This significantly helps you in engaging users with your blog post and enhancing the reach of your blog.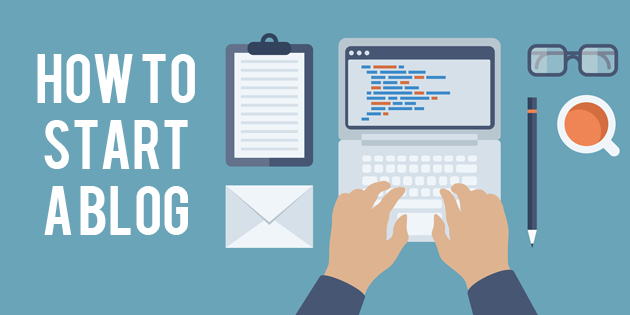 Why People Start a Blog?
It is equally important to understand why people start with a blog and find out the reason why you are starting with a blog. Here are some of the most common reasons that make people start with a blog.
Make Money Online: Yes, it is true! The ultimate objective of people starting with a blog is to generate huge amount of income. Making a decent earning from a blog is a tough job and you need to prepare yourself with its ups and downs.
Authoring a Book: The publishers these days barely work with the authors who don't have online presence. So, most of the authors start with a blog in order to find a good publisher for their books.
Improve the Reach of Business: A blog also helps a business to get engage with the daily users and this helps in reaching more audience too with just no expenditure.
Just to Write: If writing is your hobby and you want to reach more people through your writing skills then starting the blog is the best way out.
So, let us start with our guide to start a blog. Here are some of the basic steps to start a blog and make it a success in long run.
Choosing the Niche
Choosing a Domain Name
Selecting the Best Host
Finding the Perfect Blogging Platform
Starting with the Blogging Platform
Designing & Adding Content
Choosing the Right Niche
While starting with a blog it is really important to choose the right niche. You must make sure that you have proper knowledge about that particular niche so that you can provide authenticate information to the users. Here are different points of view suggested by different bloggers on choosing a niche:
Comfortable Niche: One must choose a niche that he/she is comfortable to work with. Suppose you are good at playing cricket, but suddenly you start playing tennis as it gives you more money. This should not be done while choosing a niche just for sake of early success. You must choose a niche on which you can provide the best information to your blog readers.
Profitable Niche: If you are making a blog just to earn money then going with a niche that gives you good money is important. You must choose a niche after doing good keyword research and find some profitable niches giving you high CPC.
But yes, you must remember that you should not start with a niche on which you don't have a bit of information. Yes of course, you can find great writers to write for your blog, but you can't trust them whether they are providing authentic content or not. So, if you are choosing profitable niche to start your blog on, then make sure that you must have some knowledge about that niche.
Finding the Perfect Blogging Platform
There are plenty of blogging platforms available on web. Tumblr, Blogger and WordPress are the popular ones. If you don't wish to buy web hosting then going with Blogger is the best option. Blogger is the blogging platform now owned by Google. But due to several limitations, most of the bloggers use WordPress as the blogging platform. WordPress provides a large number of features to its users along with different free themes and plugins.
WordPress is used by millions of people around the world to start a blog. Here are some of the best reasons why people often go with WordPress to start a blog.
Setting up a blog on WordPress is very easy.
It is an open source blogging platform loaded with tons of features.
WordPress has phenomenal range of security features along with regular software updates and security enhancements.
Customizing the WordPress themes and plugins is really easy.
It is very important to choose the right blogging platform. If you are making blog to make money or to improve the reach of your business then don't hesitate to choose WordPress.
Choosing the Domain Name
Once the niche for starting the blog has been decided, you should start searching for a domain name. Most of the bloggers advise that the domain name should have a targeted keyword in it. But after the major search engines rolled their new search policies, it was made clear that no preference is given to domain name targeted on keywords over simple domain names.
Now, while searching the right domain name, you should keep certain things in mind:
Domain Extension: If your aim is to target the world audience, then choosing the '.com' extension should be the favorable choice. If you are targeting the audience of particular country like India then you can choose to go with '.in' domain extension.
Length of Domain Name: The length of your domain name should be kept short. The length of domain name can be from 3 characters to 12 characters. Though there is no problem in choosing bigger domain names, but remembering the short domain names is easy for the visitors. Also, try avoiding adding numerals to domain name like "abc1.com".
Memorable Domain Name: It is recommended to choose a domain name with proper spelling or a name that is easy to memorize. Suppose if you choose a domain name "ptrkhgdyd.com", it will be very difficult for your site visitors to memorize it.
Descriptive: The domain name you select should describe the site. Suppose you are making a site on 'Health' niche then going with a domain name 'healthfundae.com' is a good choice.
These are the recommended ways to choose a domain name for your blog. It is totally up to you what domain name you select and what extension you choose. GoDaddy is the largest and best domain name registrar in the world. So, you can choose to book your domain name with GoDaddy.
Selecting the Best Host
Web Hosting is another important requirement to start a blog. Once you have booked the domain name, the next step is to find the best web hosting provider to host your blog. For initial days, you can choose to go with shared hosting plans starting from $2-$6 per month. Once you start getting enough traffic on your blog, then you can move VPS or dedicated hosting plans. Make sure that the host provides you with WordPress as a CMS so that you can setup a blog on WordPress.
Here are certain things that you must keep in mind before buying a suitable web hosting plan to host your new blog.
The Brand Name: It is very important to choose web hosting plans offered by big brands due to the reliability they provide to the users. GoDaddy, HostGator, BlueHost, iPage, and Digital Ocean are some of the best web hosting providers that exist on internet.
Servers: Make sure that the web servers are embedded with latest technology and should provide good uptime so that your blog remains live 24X7X365 days a year.
Comparison: The features provided by different web hosts should be matched and compared. You must go be with the best at affordable price.
Customer reviews: The customers who have used the web hosting services of different providers have reviewed them over the web. You must go through some of the reviews and decide which webhost to choose.
GoDaddy, BlueHost, HostGator are the most reliable web hosting providers. Once you opt for their web hosting plan, they will hardly trouble you during the tenure of your plan. Moreover, each of the mentioned webhosts has their own support team to look after the problems faced by the clients.
You may like: Top Services from HostGator Hosting
Starting with WordPress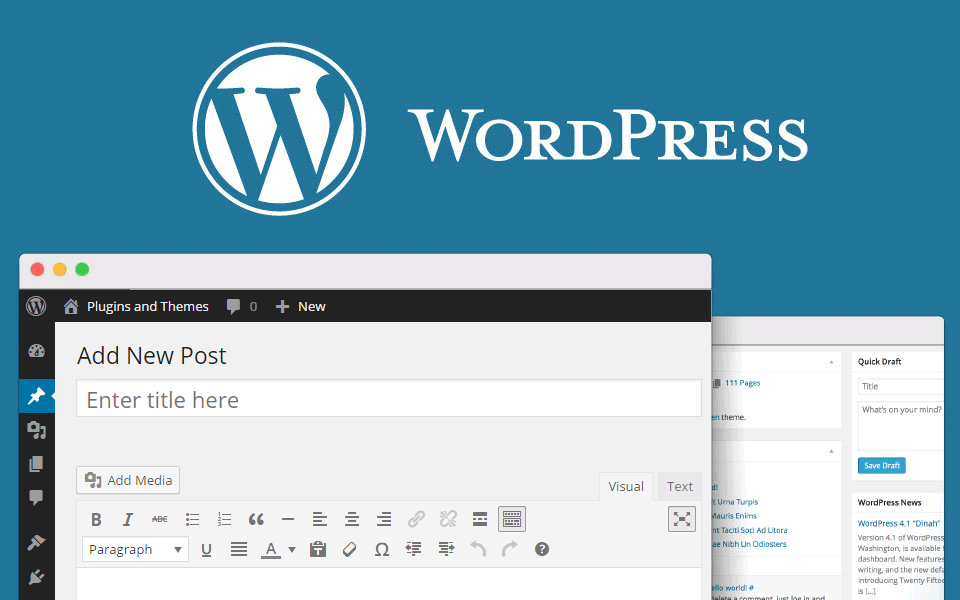 Once you have purchased the web hosting, the next task is to install WordPress so that your website can be live. All you need to do is login the website control panel if you have chosen cPanel/Plesk web hosting. There you will find easy options to install WordPress. Fill in the details carefully and start with the installation. Once the installation has been finished, you can visit your website for further setup. The process will hardly take one minute to complete depending on your internet speed.
Designing & Adding Content
After the WordPress installation is finished, login to your WordPress dashboard with the details you have filled during the installation. Now you can choose to design your blog manually or through the tools provided by WordPress. There are plenty of free themes and plugins that will help you out in giving a new look to your WordPress blog. Install the important plugins like 'All In One SEO Pack', 'Google Sitemaps' and few others to start working with your blog.
Also, change several settings like 'Permalink structure', 'Time & Date' according to your country time zone, 'User roles' and several other settings that are of utmost importance. You can also create categories and Menubar before creating a post.
Now, start writing with the first blog post depending on the choice of your niche. Now go to 'Add New Post', and start writing the content. Once the post is written, proofread it. After checking your content for spellings and grammar, press 'Publish' button on right of your screen. Your first article is published. Now get ready to rock the world through your blog.
Final Thoughts
Starting a blog is not at all easy. You need to do research before starting a blog. This guide will help you out in taking every step wisely before starting the blog. You are the one responsible for the success or failure of your blog. Do not get over motivated by the false means which people generally adopt to earn big in less time. Always go with legitimate ways to promote your blog.
The ranking of blog on search engines is a slow process. You must make sure that your audience is impressed by your writing skills. If you are able to impress your audience over a long time, the search engines will automatically rank your higher above other blogs.