Have you too stumbled upon one of the most confusing questions in a webmaster's life? If yes, you have ended up at an appropriate place where we will be discussing one of the most serious topics on shared and dedicated hosting?
Almost all web hosting service providers offer you with shared as well as Virtual Private Servers (VPS). When the shared hosting plans offer you with exciting features, the private servers on the other hand lure you with their extraordinary specifications. Here arises the question, Shared vs VPS – Which is better for you?
Before directly reaching out on a conclusion, let's first understand what shared and virtual private servers actually mean.
What is Shared Hosting?
As the name says, shared hosting is a common server that is shared by numerous websites. In this hosting, your website shares server space as well as a common IP address with several other website. Your website can perform better with Bluehost shared hosting because of their brilliant features.
Though, many web hosting service providers offer you unlimited disk space and bandwidth, they always remain a restriction at some point of time. Consider a blog post on your blog goes viral and your website starts to get a huge chunk of traffic. In such cases, your shared servers are unable to sustain this increased traffic that too without compromising your on-site experience.
No wonder, shared hosting offers you amazing features and specifications at a way cheap price yet your hosting need an upgrade as your business grows.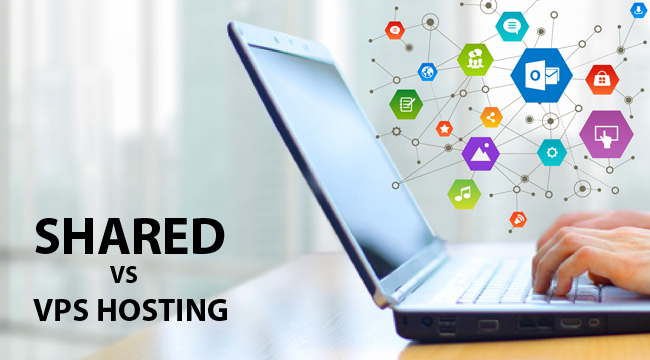 What are Virtual Private Servers (VPS)?
Virtual Private Servers are servers that are partitioned out of a single huge server. Each of this partitioned server works independently and is considered to be intermediate option between shared and dedicated hosting servers.
VPSs are a great option for customers who do not want to share their server spaces with any other. Moreover, these servers also have a promising uptime, bandwidth allocation and server space. Now let's look at some of the extraordinary features and benefits of VPS hosting.
VPS hosting provides you with a complete control over your server providing you with an unrestricted access. It also gives you the flexibility to customize it the way you want
As you have complete control over the server, you are free to install any applications or software you want. Moreover, you can also install certain add-ons that help you optimize performance and improve functionality of your server as well as the website
Very often, the web hosting service providers offer you with several service plans that are planned to match varied needs. However, these providers also offer you to generate a customized plan that would match your additional requirements
You can secure your servers and websites from hackers by installing malware software and tanti-virus programs unlike the shared servers. Hence, VPSs remain to be most secured hosting that the shared ones
Since the virtual private servers are standalone servers, handling and maintaining them is one of the critical tasks. However, Bluehost ensures to make it easy for you by their improved cPanel interface. The special tools for VPS management and WHM control make it a cake walk for you while handling these hefty servers.
Bluehost offer you some of the best VPS plans starting as low as $14.99/month. These plans are highly customized to ensure you get the best in class service. Moreover, their highly efficient customer support sees to it that your problems get solved instantly and you get the best hosting experience.
Conclusion
Though the shared hosting servers are efficient and match all your requirements at an entry level, soon a time comes when your business needs a well acclaimed hosting technology for your website. Hence, the VPS hosting is way much progressed and better in all terms to that of shared hosting.
Hope the above information and clarifications help you in understanding Bluehost's Shared vs VPS hosting and help you decide which is better for you.