There are tons of website hosting providers and with more choices, there are chances that anyone can get analysis paralysis. Analysis paralysis is the state where you are confused and cannot choose any of the web hosting, even after providing with tons of options.
To minimize the chances of analysis paralysis, we are listing top 10 popular website hosting providers. Choosing a web hosting is a different altogether, and there are lots of factors one should keep in mind before taking the plunge. Factors, that you should keep in mind, before buying any web hosting are 24/7 uptime, support, script support, bandwidth allowed, disk space provided, connectivity issues such as FTP, SSL and more. It is also advisable to know if the web hosting company offers SSL certificates.
Note: From mid-2015, OpenSSL will come into the market, providing free SSL protection for any website on the internet. So, you can skip the idea of getting an SSL certificate altogether. To know more, click here.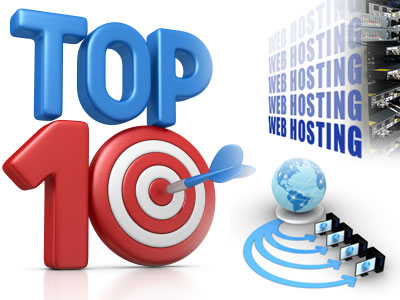 Let's begin listing the top 10 popular website hosting providers.
Hostgator
HostGator is one of the popular web hosting providers on the internet. The hosting plans start from $3.99 and they provide 45-days money back guarantee so that you can buy with confidence. They also provide $100 free advertising. Moreover, they provide unlimited bandwidth and space. The support of Hostgator is top-notch. You can verify the credibility of Hostgator service by reading a HostGator review.
iPage
iPage is another popular web hosting provider that offers $500 free advertising credit. They offer unlimited disk space and bandwidth. They also offer money back guarantee anytime you want to. Another great thing about this service is free domain registration for the first time.
web.com
Web.com is the cheapest option available out there. You can get the web hosting for just 0.50$. They also offer unlimited bandwidth and site building service is also provided.
Bluehost
Bluehost also makes to the top 10 popular website hosting providers. You can grab the web hosting the web hosting for just $3.95. For that price, they offer unlimited space and bandwidth. To gain the buyers trust, they offer anytime money back guarantee. For starters, they also offer a $200 Free Advertisement credit.
FastCow
FatCow offers good options for the new webmasters. The web hosting starts from $3.15 for which you get unlimited bandwidth and disk space. They also offer 30 days money back guarantee and $200 Advertisement credit.
GoDaddy
GoDaddy is a very popular web hosting company. They are also domain registrar and offers cheap domain registration. They offer web hosting as low as $1.99 which include unlimited space. They also offer anytime money-back guarantee.
7. Network Solutions
"Network solutions" is also a good web hosting company which offers site building options. They offer unlimited space and bandwidth.
JustHost.com
JustHost.com is one of the new entrants in the web hosting company. The minimum plan starts from only $2.50, which include unlimited space and bandwidth option.
inMotionBusiness Hosting
This hosting is best for business all around the world. They offer services from $3.49. They offer unlimited space and bandwidth with 90 days money back guarantee.
Hub
Just like other web hosting companies, it also offers unlimited bandwidth and space. The plans start from only $1.9.
Hostgator hosting is highly recommended. You can grab Hostgator Coupons from here (https://startupwebpro.com/). By using the Hostgator coupon codes you can find more discounts on their hosting plans.