Now that you've chosen a niche to write about, it's time to set up your blog. This can be a little tricky for those who are not familiar with the various blogging services out there, but fear not- you'll get the hang of it in no time.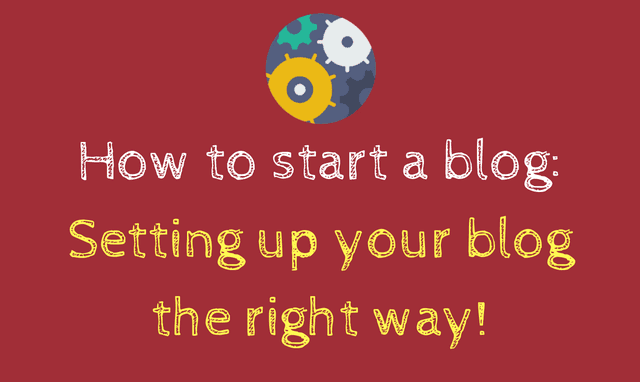 Here is a general guide to help you through:
Choose your blog platform.
If you are new to blogging, have little to no experience in creating and running a website, you're not sure you want to get serious with your blog, or a mixture of these things, I suggest you use Blogger as your starting software. This way, you won't have to pay for hosting, install updates, etc. All you have to worry about is setting up your account, designing your blog, and creating content for it. It's very easy to use, and my first choice for the novice blogger. Your URL won't be your own (yourname.blogspot.com), but you can buy your own domain and use that if you'd like. Domain names are cheap.
For the more tech-minded, and those who want full control of their blogs, I'd suggest WordPress, or even Drupal. The software is free, but you'll need to buy a domain and find a good host for your site. You will also need to install updates every now and then.
Choose your title and domain.
This is one of the most important steps in setting up your blog. It is the first thing you will do to establish your brand, so make sure you really like the name you choose. Try to include your main keyword in both the title and domain, as it will help you to rank higher in search engines for the term you've selected. This isn't always possible, but it does help. At the very least, choose a title and domain that describes what your blog is about.
I'd also like to suggest that your URL should be simple for others to remember. Short and sweet is good. Too many words and/or dashes are far from ideal, as are numbers (in most cases).
While a .com name is usually easier to remember, you can also choose from .net, .info, .us, etc. Branching out to one of these will give you more possibilities to choose from.
It's not always easy to come up with a title, and nowadays, it's often difficult to find a domain name that hasn't already been snatched up by someone else. I've heard of a couple bloggers who've tried almost twenty different domain names before finding one that was available. While this can be frustrating, all it takes is a little creativity to overcome this hurdle.
Set up your blog.
If you choose to go with Blogger, all you really need to do is type your title and desired URL into the required fields, and your blog is ready within seconds. Simple enough, right?
WordPress and Drupal are a little more complicated than that. I personally have not set up blogs using either of these yet, but there are several tutorials out there to help- WordPress, Drupal. Dave Miller also wrote a great tutorial on setting up a blog on your own server here at IGTB.
Install your template.
Like your title and (sub?)domain, your blog's design is a huge contributing factor to your brand. It's best that you choose one that matches your topic. While there are tons of free blog templates available for a number of platforms (just search Google), some people prefer something more unique, and will either create a theme themselves, or hire a designer to do the job. Designers aren't always cheap, and everyone has their own tastes, so if you choose to go this route, do your research before settling on the first one you find.
Done? Now you're ready to start posting!
This post is Part II of the Niche Blogging series.